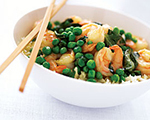 Prep: 20 min
Cook Time: 10 min
Total: 30 min
Serving: 4 Servings
This light and tasty meal is made with succulent pieces of curry spiced shrimp and sweet green peas. Serve in a bowl on top of some fragrant jasmine rice.
Ingredients
8 scallions, trimmed
2 cloves garlic
1 1-inch piece fresh ginger, peeled
1 pound large shrimp, peeled and deveined
1 tablespoon curry powder, divided
2 teaspoons canola oil, divided
1-1/2 cups frozen peas
1 cup reduced-sodium chicken broth
Salt & freshly ground pepper to taste
Directions
Place all but one of the scallions in a food processor, along with the garlic, and ginger. Pulse the mixture until finely minced.
Chop the remaining scallion into small pieces and set aside.
Place the shrimp in a bowl and sprinkle in 1-1/2 teaspoons of curry powder. Toss to coat.
Place the oil in a large sauté pan and heat over medium-high heat. Drop in the shrimp and sauté for 4 minutes, and then remove and place in a bowl.
Add the remaining oil to the sauté pan over low heat and add the scallion mixture and the remaining curry powder. Cook the mixture for 2 minutes and then pour in the broth and add the peas.
Bring the mixture to a simmer over medium-high heat, and cook for 3 minutes. Add the shrimp back to the pan, along with a sprinkle of salt and pepper, and toss to combine.
Serve the shrimp and peas immediately with the remaining chopped spring onion.