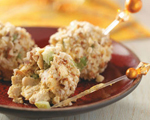 Prep: 40 min
Cook Time: 35 min
Total: 1 hr 15 min
Serving: Makes about 20 pieces
Looking for something new to serve your guests instead of the same old appetizers your mom used to serve? These pieces of chicken are dipped in a creamy sauce and then rolled in chopped peanuts, giving them a sweet and savory appeal.
Ingredients
4 halves, skinned & boned chicken breasts
2 cups half & half
1 1/2 cups mayonnaise
3 tablespoons mango chutney
2 tablespoons dry sherry
1 tablespoons sherry vinegar
2 tablespoons plus 1 teaspoon curry powder
1 teaspoon turmeric
2 cups finely chopped salted roasted peanuts
Directions
Preheat your oven to 350 degrees.
In a shallow baking dish, place chicken breasts side by side but do not overlap.
Pour the half-and-half over the chicken and bake for 35 minutes.
Remove from oven, let cool, and cut into 1 inch cubes.
In a food processor, combine mayonnaise, chutney, sherry, vinegar, curry powder and turmeric; process until mixture reaches a smooth consistency.
Dip the chicken cubes into the curry mayonnaise and then roll each piece in the chopped nuts. Refrigerate for 30 minutes. Serve on platter with toothpicks.