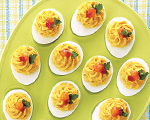 Prep: 20 min
Cook Time: –
Total: 20 min
Serving: Makes 24 halves
Fresh lemon and spicy and sweet curry add new flavors to this traditional deviled egg recipe with a twist.
Ingredients
12 hard-boiled eggs
1/2 cup fresh breadcrumbs
1/4 cup sour cream
2 tablespoons finely chopped fresh parsley
1-1/2 teaspoons curry powder
1 teaspoon lemon juice
Pinch of cayenne
Salt & freshly ground pepper to taste
Mango chutney to garnish
Directions
Cut the boiled eggs in half and carefully remove the yolks, placing six into a small bowl and reserving the remaining 6 for another use.
Add the breadcrumbs, sour cream, parsley, curry powder, lemon juice and cayenne to the bowl and mix all the ingredients until smooth.
Carefully spoon the egg yolk mixture into the boiled egg halves and arrange on a serving platter. Spoon a small dollop of chutney on each egg and serve.