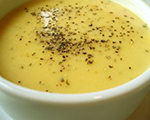 Prep: 5 min
Cook Time: 11 min
Total: 16 min
Serving: 4-6 Servings
This creamy corn soup made with coconut milk is given an extra kick of flavor with the addition of curry powder and hot sauce. Serve with a dollop of plain Greek yogurt or crème fraiche.
Ingredients
2 teaspoons olive oil
1 cup chopped onions
1 tablespoon curry powder
1/2 teaspoon hot sauce, or to taste
1/4 teaspoon salt, or to taste
1/4 teaspoon freshly ground pepper
2 16-ounce packages frozen corn
2 cups reduced-sodium chicken broth
2 cups water
1 cup coconut milk
Directions
In a large saucepan, heat the oil over medium-high heat and sauté the onions for 5 minutes until soft.
Stir in the curry powder, hot sauce, salt and pepper and cook for 1 additional minute.
Add the corn, broth and the water and bring the mixture to boil over high heat.
Once boiling, remove the pan from the heat and puree until smooth using a handheld blender.
Stir in the coconut milk and place the mixture over low heat until heated through.
Ladle the soup into bowls and serve warm.