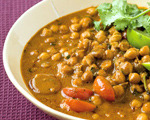 Prep: 15 min
Cook Time: 15 min
Total: 30 min
Serving: 4 Servings
Harissa is a Middle-Eastern and African hot chili paste that adds wonderful flavor and color to dishes. Enjoy it in this Curried Chickpea main dish meal.
Ingredients
2 tablespoons olive oil
2 cloves garlic, crushed and chopped
4 tablespoons harissa paste
1 13-14 ounce can coconut milk
1 14 ounce can chickpeas, drained and rinsed
1/4 pound cherry tomatoes, halved
3/4 cup cilantro leaves, chopped
Sea salt and freshly ground black pepper, to taste
Directions
Place a large saucepan over medium heat. Once the pan gets hot, add the olive oil, garlic and the harissa paste, and sauté for 3 minutes. Stir in the coconut milk and the chickpeas, and then reduce the heat to medium-low. Simmer the mixture for 10 minutes and then remove from the heat.
Five minutes prior to serving, stir in the tomatoes and the coriander and then let the mixture stand for 5 minutes. Season with salt and pepper to taste and then serve over rice of bread.