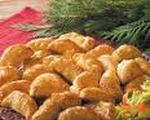 Prep: –
Cook Time: 30 min
Total: 30 min
Serving: Serves 7
Ingredients
1/3 cup raisins (optional)
1/3 cup sour cream
1/4 cup mango chutney
1 1/4 teaspoon curry powder
1 can, 5-ounces chunk chicken, drained
1 package, 15-ounces, refrigerated pie crust
Directions
Heat oven to 400 degrees F. Mix all ingredients except pie crusts. Allow pie crusts to stand at room temperature for 15 minutes to soften. Unfold each pie crust as directed on package.
Remove plastic sheets (I actually forgot to do this once!), press out fold lines. Cut seven 3 1/2-inch circles from each pie crust.
Place about 1 tablespoon of the chicken mixture in center of each circle. Brush edge with water; fold circle in half over filling; press edges with fork to seal.
Place on an ungreased cookie sheet; bake 18 to 23 minutes, or until light golden brown. Serve warm.
Notes: I often make a double batch of this recipe and serve it for dinner with rice. My family has always eaten so much that it constitutes a meal!