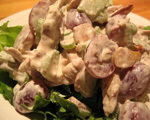 Prep: 10 min
Cook Time: 4 min
Total: 14 min
Serving: 6 Servings
Half of the mayonnaise is replaced by plain Greek yogurt in this salad recipe to create a creamy and tangy sauce for the chicken and grapes.
Ingredients
1 cup sliced almonds
2/3 cup mayonnaise
2/3 cup plain Greek-style yogurt
3 tablespoons coarse-grain mustard
4 teaspoons fresh lemon juice
2 teaspoons curry powder
1 teaspoon sugar
4 cups boneless skinless rotisserie chicken pieces
2 cups red seedless grapes, halved lengthwise
3 large celery ribs, thinly sliced
1 head Romaine lettuce, sliced crosswise
Salt and freshly ground pepper
Directions
Preheat the oven to 350 degrees.
Place the almonds on a baking sheet and toast for 4 minutes or until golden.
In a large bowl, place the mayonnaise, yogurt, mustard, lemon juice, curry powder, sugar, a few pinches of salt and a few grinds of freshly pepper.
Whisk to combine, and then add the almonds, chicken, grapes and celery, and gently toss to coat.
Serve the chicken salad on a bed of romaine lettuce.