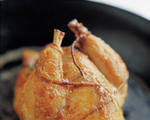 Prep: 20 min
Cook Time: 40 min
Total: 1 hr
Serving: 4-6
Give this Curried Chicken Salad some island flair by serving it in a hollowed out coconut shell.
Ingredients
2 cups chicken, cooked and diced
1 apple, peeled and diced
1 cup fresh pineapple, diced
1/4 cup raisins, golden
1 tablespoons curry powder
3 tablespoons chutney, chopped
1/2 cup shredded coconut
1/2 teaspoon salt
1 cup mayonaise
2 tablespoon chicken broth
Directions
Combine in a mixing bowl: chicken, apple, pineapple, raisins, chutney and 1/2 the coconut. Sprinkle with salt.
Mix curry powder and chicken broth and simmer one minute. Add to mayonaise and stir into salad.
Sprinkle the rest of the coconut on the salad.