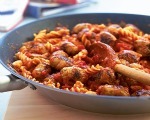 Prep: 10 min
Cook Time: 25 min
Total: 35 min
Serving: Serves 4-6 people
Curly Fusilli Pasta with Sweet Sausage is hearty and perfect for when you want a savoy meal. You can substitute just about any type of pasta for this dish.
Ingredients
1 quart of fusilli (or other) pasta, cooked and drained
2 tablespoons extra virgin olive oil, divided
12 ounces of sweet Italian sausage, sliced into 1/2-inch-thick pieces
Salt and red pepper flakes to taste
8 ounces of broccoli florets, blanched
1-1/2 teaspoons chopped fresh oregano
1 cup of black olives, pitted and rough chopped
1/4 cup Parmesan cheese, grated
Directions
Cook and drain the pasta according to package directions. Set aside. Using a large skillet over medium-high heat, add 1 tablespoon of olive oil. Add the sausage and oregano and season with the salt and red pepper flakes. Cook for about 5 minutes, or until the sausage is browned.
Add the broccoli to the sausage mixture, along with the olives and pasta. Cook until everything is heated through. Toss the mixture with the remaining 1 tablespoon of olive oil. Top with the Parmesan cheese just before serving.