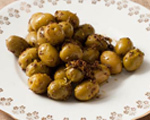 Prep: 10 min
Cook Time: 4 min
Total: 14 min
Serving: Makes 1 pint infused olives
Infusing olives with cumin and lemon zest adds a whole new dimension of flavor and aroma. Serve as a garnish to your favorite dish or cocktail, or enjoy alone accompanied by a glass of Port or Merlot.
Ingredients
1 pint brine-cured green olives, such as picholine or Kalamata, drained
2 teaspoons olive oil
1 teaspoon cumin seeds
1-1/4 teaspoons grated lemon zest
Directions
Place the olives into a saucepan, cover with water and then bring the mixture to a boil. Once boiling, reduce the heat to medium-low and simmer for 2 minutes. Drain the olives and set aside to cool slightly.
In the meantime, place the cumin seeds in a small sauté pan over medium heat and toast until fragrant, then transfer to a mortar and pestle or a spice grinder and process until coarsely crushed.
Place the cooled olives into a bowl and toss with the cumin, oil and the lemon zest.