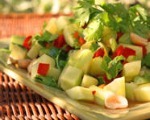 Prep: 15 min
Cook Time: 30 min
Total: 45 min
Serving: Serves 4 people
Served as a salad, or a light meal, Cucumber Shrimp Salad is a Japanese-inspired recipe. Great served over rice, noodles, salad or on its own.
Ingredients
1 large cucumber
1/2 teaspoon of salt
3 tablespoons of white wine vinegar
2 tablespoons of sugar
1 teaspoon of peeled and thinly sliced fresh ginger root
1/4 cup of finely chopped, cooked shrimp
Directions
Peel the cucumber and cut it in half lengthwise. Scrape out and discard the seeds. Cut the cucumber into thin slices.
In a small bowl, add the sliced cucumbers and sprinkle them with 1/4 teaspoon of salt, toss and let them sit for about 30 minutes.
To prepare the dressing, combine the vinegar, sugar and 1/4 teaspoon of salt. Stir this mixture until the dry ingredients are dissolved.
Drain the cucumber, pressing the slices to release all their liquid. Add the sliced ginger root and pour the dressing over the cucumbers. Toss to mix well. Garnish with the chopped shrimp and either serve over rice, noodles or green salad, or serve on its own.