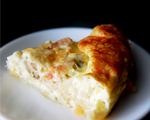 Prep: 15 min
Cook Time: 25 min
Total: 40 min
Serving: Makes about 16 (2-inch) squares
Planning a shower or light luncheon? This rich quiche is the perfect lunch dish to satisfy each guest's picky palate. Serve with a Sauvignon Blanc or Champagne.
Ingredients
5 eggs
1/4 cup flour
1/2 teaspoon baking powder
1/2 teaspoon salt
1/4 teaspoon freshly ground pepper
1-1/2 cups cottage cheese, small curd
4 tablespoons butter, melted
1/4 teaspoon ground mustard
2 cups of chopped ham, or cooked and crumbled bacon
1/2 cup grated Gruyere cheese
Directions
Preheat your oven to 400 degrees. Grease a 9x9-inch pan with olive oil, butter or cooking spray.
Whisk the eggs, flour, baking powder, salt and pepper into a large bowl. Add the cottage cheese, butter and mustard and stir until well combined. Fold in the chopped ham and cheese; stir gently.
Place the mixture into the prepared pan and bake for approximately 25 minutes. Quiche is done when a toothpick placed in the center comes out clean.
Cool quiche for 10 minutes before cutting into squares or slices.