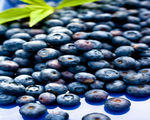 Prep: 8 min
Cook Time: 40 min
Total: 48 min
Serving: 8
A snappy crustless blueberry dessert for those counting calories or for those who crave a thick berry filling spooned over ice cream.
Ingredients
4 cups frozen blueberries (or fresh)
2 tablespoons sugar
Juice of a lemon (about 3 tablespoons
Directions
Preheat oven to 400 degrees F.
Place frozen berries in a microwave safe bowl and microwave on HIGH for 5 minutes to thaw.
Stir berries and continue to microwave for another 2 to 3 minutes until their juices release.
If using fresh berries, reduce total microwave time to 3 to 5 minutes.
Mix in sugar, lemon juice.
Pour into a square bake until bubbly and looks set, about 40 minutes.
Scoop blueberry filling into bowls and garnish with almonds and half and half or spoon it over vanilla ice cream.