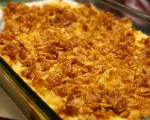 Prep: 15 min
Cook Time: 30 min
Total: 45 min
Serving: 8 servings
Crunchy baked potato slices, wonderful side dish!
Ingredients
6 tablespoons butter or margarine
3 or 4 large potatoes
3/4 cup crushed cereal flakes (not sweet)
1 cup shredded Cheddar cheese
Directions
Preheat oven to 375 degrees Fahrenheit.
Melt butter in the bottom of a casserole dish in the preheated oven.
Peel potatoes, cut diagonally into 1/4 inch slices. Place the slices in the melted butter, coating them well.
Combine the remaining ingredients and sprinkle ontop of the potatoes.
Bake for 30 minutes or until the potatoes are done and the topping is crisp.