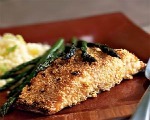 Prep: 15 min
Cook Time: 15 min
Total: 30 min
Serving: Serves 4 people
Salmon is a healthy fish that tastes great no matter how it's prepared. Crunchy Sesame Salmon is sure to please with a light breading and a lemony sauce for garnish.
Ingredients
1 pound of fresh or frozen skinless salmon
1/2 cup mayonnaise
1/3 cup roasted, sweet red pepper, chopped
2 lemons, reserve 2 teaspoons lemon juice and slice remaining into wedges for garnish
1 teaspoon chives, chopped
1/3 cup all-purpose flour
2 tablespoon sesame seeds (1 white, 1 black)
1/4 teaspoon salt
1/4 cup milk
2 tablespoons vegetable oil
Salt and pepper to taste
Directions
Thaw salmon if frozen. Rinse and pat dry. Divid into 4 serving sizes and set aside.
Using a small bowl, combine the mayonnaise, red pepper, lemon juice and chives. Season with salt and pepper. Chill until ready to use.
In a small bowl, combine the flour, sesame seeds and 1/4 teaspoon of salt. In a different small bowl, add the milk. Dip the salmon in the milk first, then into the flour mixture (both sides of the fish).
Using a large skillet, add the vegetable oil over medium-high heat. Add the fish and cook until flaky (about 3-5 minutes on each side). Serve on individual plates along with the chilled mayonnaise sauce for garnish.