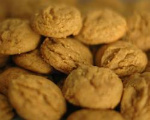 Prep: 20 min
Cook Time: 20 min
Total: 40 min
Serving: 2 dozen
Crunchy peanuts give these peanut butter cookies an extra little something.
Ingredients
Vegetable oil spray
1/4 cup mashed banana
1/2 cup peanut butter
2 eggs
3/4 teaspoon vanilla extract
2 tablespoons margarine, softened
1 cup flour
1/2 teaspoon baking powder
1 cup chopped peanuts
24 whole chelled peanuts
Directions
Preheat the oven to 375 degrees Fahrenheit. Grease a cookie sheet using the vegetable oil spray.
Combine the banana, peanut butter, eggs, vanilla and margarine and beat until creamy. Stir in the flour and baking powder. Blend in the chopped peanuts.
Drop using a teaspoon onto the prepared sheets.Use a fork to create a criss-cross design on top and press a whole peanut into the top.
Bake for 6-8 minutes, or until light brown. Cool.