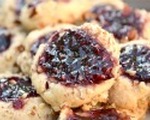 Prep: 15 min
Cook Time: 9 min
Total: 24 min
Serving: 24 People
There are two kinds of people in this world: Those who prefer crunchy peanut butter and those who prefer creamy. Well, for those crunchy loving folks, this recipe is for you! This take on the traditional holiday cookie is made with crunchy peanut butter, so each bite has the delicious flavor of peanut butter and tart jam that you love with an added crunch! Plus, you can now certainly eat cookies for lunch because these have the same ingredients as a PB&J!
Ingredients
1 cup all purpose flour
1 cup whole wheat flour
3/4 cup packed brown sugar
2/3 cup white sugar
Salt
1/2 cup chunky, crunchy peanut butter
1/4 cup butter, soft
2 eggs
1 teaspoon almond extract
8 tablespoons jam
2-1/2 cups crushed walnuts
Directions
Beat sugars, peanut butter and butter in a large bowl with a handheld mixer until creamy. Add eggs, one at a time, mixing well before each addition. Beat in vanilla.
Gradually add flour and salt to creamy mixture. Stir well. Cover your hands in flour and roll dough into about 32 balls. Roll each ball in the crushed walnuts until evenly coated.
Place balls on parchment paper lined baking sheets. Using your thumb, press down in the middle of the cookie to make a shallow cavity. Chill for at least an hour.
Once chilled, bake cookies in a preheated oven at 350 degrees F for at least nine minutes or until golden brown. Scoop jelly into the warm cookies and enjoy!