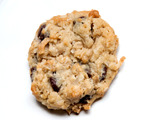 Prep: 25 min
Cook Time: 15 min
Total: 40 min
Serving: 12
Crunchy Oatmeal Coconut Cookies are full of everyone's favorite flavors.
Ingredients
1 teaspoon baking soda
1 teaspoon baking powder
1 teaspoon cinnamon
1 cup chopped dates or raisins
1 cup coconut, shredded
2 1/2 cups oatmeal
1 cup brown sugar
1 cup vegetable shortening
1/2 cup white sugar
1 teaspoon salt
2 eggs
1 teaspoon vanilla
5 tablespoons water
2 cups flour sifted with the dry ingredients
Directions
Cream shortening with sugars, eggs and vanilla; add water. Then gradually add in sifted dry ingredients. After batter is blended, add oatmeal, coconut and raisins or dates.
Drop by rounded teaspoonful on greased cookie sheet. Bake 12-15 minutes at 350 degrees F.