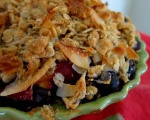 Prep: 20 min
Cook Time: 40 min
Total: 1 hr
Serving: 8 servings
Crunchy fruit and granola pie.
Ingredients
Vegetable oil spray
1 cup granola cerel
2 1/4 cups flour
1/2 cup vegetable oil
1 tablespoon fruit juice
4 cups mixed fruit
1 tablespoon lemon juice
1 teaspoon ground cinnamon
Directions
Preheat the oven to 375 degrees Fahrenheit. Grease a 9-inch pie pan with the vegetable oil spray.
Mix together the granola, 2 cups of flour and oil. Slowly add in fruit juice, adding only enough the make a soft dough.Divide in half. Press one half into the pie pan, covering the bottom and sides.
Combine the fruit, remaining flour, cinnamon and lemon juice. Toss until everything is coated. Scoop into the pie crust.
Sprinkle the remaining granola half on top. Bake for 40 minutes, or until fruit is soft. Refrigerate.