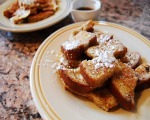 Prep: 20 min
Cook Time: 20 min
Total: 40 min
Serving: Serves 6 people
Nothing beats Crunchy French Toast Sandwiches for pure breakfast goodness! Cream cheese and orange marmalade add to the deliciousness. This recipe is versatile, too - you can put these together and freeze to bake at a later time.
Ingredients
1, 8-ounce package cream cheese, softened
1/4 cup sour cream
1, 16-ounce loaf of French bread
3/4 cup orange marmalade
4 eggs
1 cup milk
1-1/2 teaspoons vanilla
2-1/2 cups finely chopped almonds (about 10 ounces)
Syrup
Non-stick cooking spray
Directions
Use a medium-sized bowl to beat together the cream cheese and sour cream until smooth and set aside. Cut the French bread into about 20 slices. Spread half the slices with the cheese mixture (only on one side). Spread the other half of the slices with the orange marmalade (only on one side). Sandwich the slices together and set aside.
Prepare a baking sheet lined with waxed paper. In a shallow bowl or dish, beat the eggs, milk and vanilla together. Add half the chopped almonds into a different shallow bowl or dish.
Dip both sides of the sandwiches into the egg mixture and let the excess drip off before coating both sides in the chopped almonds. Continue to add almonds to the shallow dish as needed.
Place the coated sandwiches onto the baking sheet. Cover and freeze for about 3 hours. When firm, preheat your oven to 350 degrees F.
When ready, place the firm sandwiches onto a baking sheet sprayed with non-stick cooking spray. Bake for about 15-20 minutes, turning once, or until golden and totally heated through.
You can keep sandwiches frozen in freezer bags for up to about a month.