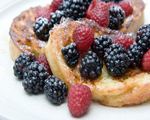 Prep: 5 min
Cook Time: 15 min
Total: 20 min
Serving: 4
Coated with shredded coconut and crushed corn flakes, this French toast gives breakfast a delectable crunch.
Ingredients
1 cup corn or bran flakes, crushed
1 cup shredded coconut
4 eggs
1/2 cup milk
1 teaspoon pure vanilla extract
1/2 teaspoon 5-spice powder or ground cinnamon
4 slices whole grain bread
Pure maple syrup
Directions
On a large plate, combine cereal and coconut. Set aside.
In a shallow baking dish, whisk together eggs, milk, vanilla, and 5-spice or cinnamon.
Preheat griddle to medium-high or place a skillet over medium-high heat. Grease griddle or skillet.
Dip bread, a piece or two at a time, in egg mixture, turning to coat and allowing bread to absorb egg mixture.
Then dip in cereal mixture, turning to coat both sides.
Cook for 3 minutes. Turn and cook an additional 3 minutes or until both sides are lightly browned and bread is cooked through.
Serve with syrup and toppings of your choice.