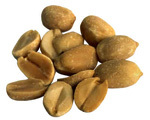 Prep: 15 min
Cook Time: 30 min
Total: 45 min
Serving: 6 People
These easy-to-make bars are ideal for serving at potlucks or for sharing with friends and family during the Christmas season.
Ingredients
3 tablespoons butter, divided
3 tablespoons brown sugar
1 tablespoon peanut butter
1-1/2 teaspoons vanilla, divided
1/2 cup flour
2/3 cup sweetened condensed milk
1/2 cup chopped dry roasted peanuts, divided
2 tablespoons chocolate chips
Directions
Cream butter, brown sugar, peanut butter and 1/2 teaspoon vanilla.
Mix in flour until mixture becomes coarse and crumbly.
Press into a greased 8x8 baking dish.
Bake at 350 degrees for 12-15 minutes.
In a saucepan, cook milk and butter over low heat, stirring constantly.
When mixture comes to a boil and thickens, remove from heat; stir in peanuts and remaining vanilla, then spread evenly over crust.
Bake at 350 degrees for 15-17 minutes.
Upon removing from oven, immediately sprinkle chocolate chips over top. Let chocolate stand for a few minutes to soften, then spread.
Sprinkle remaining chopped peanuts over all.