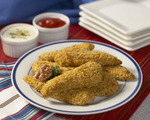 Prep: 35 min
Cook Time: 15 min
Total: 50 min
Serving: 6 Servings
These finger lickin' pieces of chicken are a kiddy favorite! Not only do they get to dip these moist yet crunchy pieces of chicken in the sauce of their choice, but moms can feel good about providing a healthy alternative to fried chicken.
Ingredients
cooking spray
1 cup buttermilk
1 1/2 pounds chicken tenders
3/4 cup Italian-style seasoned bread crumbs
1 1/4 cups freshly grated Parmesan
3 tabelspoons olive oil
Directions
Preheat your oven to 500 degrees and spray 2 large baking sheets with oil.
Put buttermilk in a medium bowl. Drop in the chicken tenders, making sure that each is thoroughly coated with buttermilk. Cover the bowl and let stand for at least 20 minutes.
Combine the bread crumbs and the Parmesan in a flat dish. Take each chicken tender from the buttermilk marinade and dredge in the bread crumb mixture, making sure that all chicken tenders are completely coated with bread crumbs.
Place chicken tenders on the prepared baking sheets, close together but not touching. Drizzle evenly with 3 tablespoons of olive oil and bake until tenders are golden brown; approximately 15 minutes.
Serve tenders alone or with a dipping sauce of your choice.