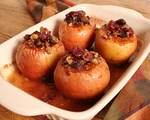 Prep: 15 min
Cook Time: 30 min
Total: 45 min
Serving: 6 Servings
Looking for baked apples with a little something extra? Try this baked apples recipe with chopped walnuts to satisfy your craving.
Ingredients
6 apples
1/2 cup raisins
1/4 cup walnuts, chopped
3/4 cup brown sugar
3/4 cup water
1/2 tsp ground nutmeg
1/2 tsp ground cinnamon
3 tbsp butter
Directions
Preheat oven to 350 F. In a small bowl, stir together walnuts and raisins; set aside.
In a saucepan, heat water, brown sugar, butter, nutmeg and cinnamon until boiling. Then reduce heat to a simmer and continue to heat for about 2 minutes.
Meanwhile, core the apples making sure you leave the bottoms intact and set them in baking dish. Spoon the nut mixture into each apple where the core was. Pour the hot sugar mixture over each apple.
Bake for 30-35 minutes or until the apples are tender. Let apples cool before serving.