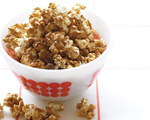 Prep: 20 min
Cook Time: 15 min
Total: 35 min
Serving: Makes about 6 cups
This is a recipe for the sweet and sticky treat that you find at amusement parks and the circus. If you're a nut lover, add peanuts or any other toasted nut of your choice.
Ingredients
3/4 cup popcorn
1-1/2 tablespoons unsalted butter
1-1/2 cups packed light brown sugar
6 tablespoons warm water
Directions
Line a baking sheet with parchment paper.
In a medium saucepan, melt the butter and then slowly add the sugar until totally dissolved. Increase the heat to medium-high, and then bring the mixture to a boil.
Using a pastry brush dipped in the water, brush the sides of the pan with the butter mixture.
Put a warmed candy thermometer into the mixture and cook, without stirring, until temperature reaches 234 degrees.
Pour in the popcorn and stir gently until the corn is thoroughly coated. Transfer popcorn to the prepared baking sheet and allow to cool.
Lightly butter your fingers and separate the kernels of corn and place into a bowl.