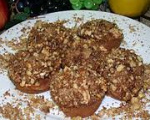 Prep: 20 min
Cook Time: 20 min
Total: 40 min
Serving: 1 dozen
Sweet and crunchy apple muffins, wonderful warm!
Ingredients
2 cups sifted all-purpose flour
1/3 cup instant nonfat dry milk
1/3 cup granulated sugar
3/4 cup water
1/4 cup vegetable oil
1 teaspoon cinnamon
1 cup finely chopped, peeled apples
4 teaspoons baking powder
1 teaspoon salt
1 egg
Crunch Topping Ingredients:
1/3 cup firmly packed brown sugar
1/2 teaspoon cinnamon
1/3 cup choped nuts
Directions
Preheat oven to 400 degrees Fahrenheit. Grease 12 muffin cups.
Stir together the sifted flour, dry milk, sugar, baking powder, salt and cinnamon. Fold in the apples.
Mix the water, oil and egg. Stir into the flour mixture. Do not overmix.
Spoon into the prepared muffin pan, filling each cup 2/3 cull. Mix together the topping ingredients, and sprinkle on top of the batter in each cup.
Bake for 20 minutes, serve warm.