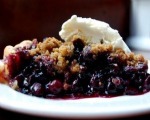 Prep: 20 min
Cook Time: 35 min
Total: 55 min
Serving: Serves 6-8 people
A delicious and fresh dessert to welcome in Spring, Crumbly Blueberry Cobbler is great served with vanilla ice cream or whipped topping.
Ingredients
3/4 cup rolled oats
3/4 cup flour
1/4 cup cold, unsalted butter cut into 1/4-inch pieces (additional 1 tablespoon, melted)
1 egg
1/2 cup brown sugar (packed) for topping
1 tablespoon baking powder
1/2 teaspoon cinnamon
1/4 teaspoon nutmeg
3 pints of blueberries
2 tablespoons fresh lemon juice
1 tablespoon vanilla extract
1-1/2 cups brown sugar (packed) for filling
2 pinch of salt (one for topping, one for filling)
Directions
Preheat your oven to 375 degrees F. Lightly butter a 10-inch pie pan. For the topping, grind the oats in a food processor for about 30 seconds (or until it's a flour-like consistency). Reserve 2 tablespoons of the ground oats in a large bowl. To the food processor, add the flour, salt, baking powder, cinnamon & nutmeg. Mix well. Add the cold butter and pulse until the pieces become very small. Transfer the mixture to a large bowl.
In a medium-sized bowl, whisk the egg and the 1/2 cup brown sugar. Pour this mixture into the dry mixture and mix until the dough forms. Cover and refrigerate.
For the filling, add the blueberries and the reserved oats. Add the lemon juice, vanilla extract, 1-1/2 cups of the brown sugar and salt. Stir to coat the berries. Add this mixture to the pie dish. Crumble the topping mixture over the filling leaving some areas uncovered. Drizzle the topping with the melted butter.
Prior to baking, place pie dish on a baking sheet. Bake for about 20 minutes, then rotate and bake for another 15 minutes. When finished, serve with vanilla ice cream or whipped topping.