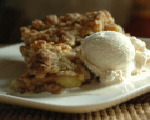 Prep: 30 min
Cook Time: 40 min
Total: 1 hr 10 min
Serving: About 8 People
What's a better fall dessert than a crumble-topped apple pie? This classic pie recipe with it's special crumble topping will have guests coming back for seconds. To make it more special, add your favorite vanilla ice cream or whipped topping when serving a slice (or two).
Ingredients
9-inch pre-packaged, refrigerated pie crust
5 cups apples, peeled, cored and sliced thinly into 1/2 in pieces
1/4 cup white sugar (for pie filling)
1/4 cup brown sugar (for pie filling)
1/2 cup flour to coat apples
3/4 teaspoon of ground cinnamon
1/2 cup white sugar (for crumble topping)
1/2 cup brown sugar (for crumble topping)
3/4 cup all-purpose flour
6 tablespoons of butter cut into pieces
Directions
Preheat your oven to 400 degrees.
Lightly toss your sliced apples with flour to coat them.
In a bowl, mix the white and brown sugar with the cinnamon. Lightly toss the flour-coated apples in the sugar and cinnamon mixture to coat them, and place them in a heaping pile in your pie crust.
For the crumble mixture, cut the butter into small pieces (keep the butter chilled but slightly soft for easy handling).
Mix the white and brown sugar with the flour, and with your hands, softly add in the pieces of butter to mix it all together.
Using either a spoon, or with your hands, crumble the mixture on top of the apple filling.
Bake the pie for 35-40 minutes, or until the apples are soft and the top is slightly brown.