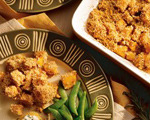 Prep: 10 min
Cook Time: 54 min
Total: 1 hr 4 min
Serving: 6 Servings
Sweet cinnamon-sprinkled butternut squash is topped with a tasty crumb topping to create an enjoyably sweet and fragrant side dish for pork and poultry dishes.
Ingredients
1-1/2 pounds butternut squash, peeled and cut into 1/2-inch cubes
2 tablespoons all-purpose flour
2 tablespoons fresh lemon juice
1 teaspoon ground cinnamon
1/4 teaspoon salt
1/3 cup breadcrumbs
2 tablespoons chicken or vegetable broth
Olive oil to grease pan
Directions
Preheat your oven to 350 degrees and brush an oven pan with olive oil to coat.
Place the squash, flour, lemon juice, cinnamon and salt into the prepared pan and toss to coat. Place in the oven for 50 minutes.
In the meantime, place the breadcrumbs and the broth into a small bowl and stir to combine.
Sprinkle the breadcrumb mixture over the cooked squash and then place the pan back in the oven to cook under the broiler for 4 minutes, or until breadcrumbs turn golden brown. Serve immediately.