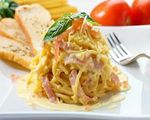 Prep: 30 min
Cook Time: 8 hr 30 min
Total: 9 hr
Serving: 8
Serve this dish with a green salad and french bread with herb butter.
Ingredients
1/2 pkg spaghetti, broken into pieces
1 cup sour cream
1 egg, whipped
1/2 cup parmesan cheese, grated
1/2 tsp minced garlic
3 cups monterey jack cheese, grated
1 cup frozen chopped spinach, drained
1 cup of canned french fried onions
Directions
Cook spaghetti according to the package directions.
Drain and set aside.
Combine the sour cream, parmesan cheese and garlic in a bowl.
Add the egg.
Spray a crock pot with non stick spray.
Pour the mixture into the crock pot.
Add the spaghetti and stir.
Add 2 cups of the jack cheese and the spinach.
Stir until mixed.
Cover and cook on low for 7 to 8 hours or high for 3 to 4 hours.
Remove the cover and add the remaining jack cheese and the onions on top of the mixture.
Cover and cook an additional 30 minutes.