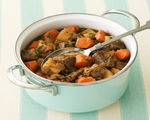 Prep: 15 min
Cook Time: 10 hr
Total: 10 hr 15 min
Serving: 6
My mother has a kitchen drawer filled with recipes clipped from magazines, newspapers, etc. from who knows how many years ago. Brought to you from the 50+ Friends Club Cookbook.
Ingredients
2 lbs. stew meat, cut it into bite size pieces
1/4 cups flour
1/2 teaspoon pepper
1 teaspoon Worcestershire sauce
1 bay leaf
3 potatoes, diced
1 rib celery, diced
1 1/2 teaspoons salt
1 1/2 cups beef broth
1 clove garlic, minced
1 teaspoon paprika
2 onion, chopped
2 teaspoons Kitchen Bouquet (optional)
Directions
Put the meat in a crock pot.
Mix the flour, salt, pepper and pour over meat.
Stir it good to coat the meat with flour.
Add remaining ingredients and stir well.
Cover and cook on low for 10 to 12 hours (high 4 to 6 hours).
Stir stew real good before you serve it.