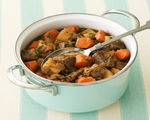 Prep: 30 min
Cook Time: 10 hr
Total: 10 hr 30 min
Serving: 6
Serve this stew with french bread and a green salad.
Ingredients
1 tbsp. cooking oil
1 1/2 lb. beef stew meat, cut into 1-inch cubes
4 red potatoes, quartered
4 carrots, cut into ½-inch pieces
1 can condensed cream of mushroom
1/4 cup dry red wine
1 env. onion soup mix
1/2 tsp. dried marjoram, crushed
1 1/2 cups fresh cut green beans
Directions
Heat oil in a large skillet.
Cook beef in hot oil until brown.
Drain off fat.
Place potatoes, carrots, and beef in crock pot.
Stir together condensed soup, wine, soup mix, and marjoram in a medium bowl.
Pour over meat.
Cover and cook on low for 8 to 10 hours. (Or, cook on high for 4 to 5 hours.)
Turn to high, if using low heat.
Stir in green beans.
Cover and cook for 5 to 10 minutes more or until beans are tender.