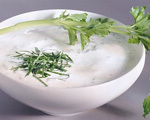 Prep: 1 hr 15 min
Cook Time: –
Total: 1 hr 15 min
Serving: 8 servings
Creme Fraiche, meaning 'fresh cream,' is a delicious, thinner form of sour cream what was originally developed by the French.
Ingredients
3 cloves garlic, peeled and minced
sea salt
freshly ground black pepper
1/2 lemon
1 8-ounce carton créme fraiche or sour cream
Directions
Place the garlic into a small bowl and sprinkle with a generous amount of salt. Mash the garlic with a wooden spoon until it becomes a paste.
Squeeze the lemon over the garlic and then add another pinch of salt. Mix and then let the garlic stand for 15 minutes.
Add the crème fraiche or sour cream to the bowl along with a few grinds of pepper, and whisk the mixture to combine. Place in the refrigerator for 1 hour to allow flavors to blend.
Use within 3 days for best results.