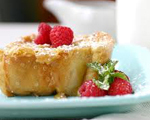 Prep: 8 hr
Cook Time: 35 min
Total: 8 hr 35 min
Serving: Serves 6
The ultimate comfort food breakfast; thick pieces of French toast marinated in a Crème Brulee sauce and then baked until reaching golden perfection.
Ingredients
1 stick (1/2 cup) unsalted butter
1 cup packed brown sugar
2 tablespoons corn syrup
9-inch round loaf country-style bread, cut into 1-inch slices
5 large eggs
1-1/2 cups half-and-half
1 teaspoon vanilla
1 teaspoon Grand Marnier
1/4 teaspoon salt
powdered sugar
Directions
Melt the butter, brown sugar and corn syrup over medium heat in a small saucepan; stir until smooth.
Pour the syrup into a 13x9-inch baking dish and then add six slices of the bread.
In a medium bowl, mix together the eggs, half-and-half, vanilla, Grand Marnier and salt with a whisk until well combined. Pour mixture over the bread.
Place the bread mixture into the refrigerator and chill for at least 8 hours, covered.
Preheat the oven to 350 degrees; uncover and remove bread mixture from the refrigerator.
Bake for 35 minutes, until bread is puffy and golden colored. Drizzle with honey and sprinkle with powdered sugar; serve immediately.