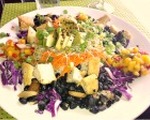 Prep: 15 min
Cook Time: 6 min
Total: 21 min
Serving: 2 People
One of the biggest problems many people have with tofu is its texture. The white, slimy, jiggly look and feel of tofu can be quite unappetizing. However, tofu is one of the best sources of protein out there for vegetarians and can be used in almost any kind of dish, due to it's relatively bland flavor. If you're not sure how to prepare it but would like to try this superfood, try this recipe for crispy fried tofu over a mixed salad. The crispy fried tofu is a perfect addition to the Mediterranean ingredients of the salad.
Ingredients
1 block firm tofu
3 tablespoons yeast
2 tablespoons flour
1/2 teaspoon sea salt
1/2 teaspoon crushed red pepper
2 tablespoons olive oil
2 cups sliced purple cabbage
1 avocado, thinly sliced
1 carrot, thinly sliced
1 cup black beans
1/4 cup chopped chives
1/4 cup alfalfa sprouts
1/4 cup white jasmine rice, cooked
Salsa for garnish
Directions
To prepare the tofu: Slice into 1/2-inch cubes and combine tofu with the remaining ingredients, except the oil and toss gently to coat the tofu well. In a large skillet, heat the oil over medium-high heat. Add tofu and cook for four to six minutes or until brown and crispy.
To make the salad, place the purple cabbage on the bottom of a deep bowl. Add rice and shaved carrots on top of the cabbage in the middle. Then, on each side, place black beans, salsa and sprouts. Add tofu to the top, sprinkle with chives and enjoy!