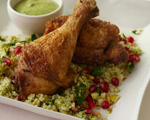 Prep: 15 min
Cook Time: 40 min
Total: 55 min
Serving: 4 Servings
Enjoy the flavors of the Middle East with this crispy oven-baked chicken dish with couscous and hummus dressing.
Ingredients
4 chicken drumsticks
4 chicken thighs
1/4 cup plus 2 tablespoons extra-virgin olive oil
2 tablespoons ground coriander
Salt and freshly ground pepper
4 cups cooked couscous
1/2 cup coarsely chopped roasted pistachios
1/2 cup pomegranate seeds
1-1/2 cups coarsely chopped flat-leaf parsley
1 cup prepared hummus
1/4 cup white wine vinegar
Directions
Preheat your oven to 450 degrees and place the oven rack in the upper third portion of the oven.
Put the chicken in a bowl along with the oil, coriander and a few pinches of salt and pepper; toss to coat and then place the chicken on a greased baking sheet. Cook the chicken for 40 minutes, turning every so often to ensure even cooking.
In the meantime, place the pistachios, pomegranate seeds and 1/2 cup of the parsley in a bowl and toss to combine.
Put the hummus, vinegar, remaining parsley and 1/4 cup of oil in a blender and puree the mixture until smooth. Season the hummus to taste with salt and pepper and then pour 1/3 of the mixture over the couscous. Toss to coat.
Evenly divide the hummus between 4 dinner plates and then top with the chicken. Drizzle the dish with the extra sauce and serve immediately.