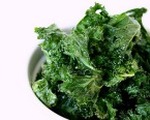 Prep: 15 min
Cook Time: 20 min
Total: 35 min
Serving: 4 People
Have a mad craving for a salty, crunchy potato chip, but don't want the extra calories or grease that come with it? Make these kale chips instead! Each chip is salty and crispy like a traditional potato chip, but has less than half the fat and calories! Plus, each crunchy chip is baked, not fried, so you never have to feel guilty eating one!
Ingredients
1 head kale, washed and dried
2 tablespoons extra virgin olive oil
Sea salt
Freshly ground black pepper
Directions
Preheat oven to 275 degrees F. Grease a cookie sheet with nonstick cooking spray.
Remove the ribs from the kale and cut into bite size pieces. Lay each piece flat on the baking sheet and sprinkle liberally with sea salt and olive oil.
Bake for about 20 minutes (flipping over after ten) or until crispy.