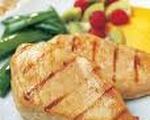 Prep: 25 min
Cook Time: 20 min
Total: 45 min
Serving: 6
Crispy Oriental Chicken is full of vegetables.
Ingredients
4 large chicken breasts, boned and skinned
salt and pepper to taste
1/4 cup cornstarch
oil for deep frying
1 bunch celery, sliced
1 can bean sprouts, drained
1 can bamboo shoots, drained
1 can water chestnuts, drained
1 small onion, chopped
3 green onions, chopped
1/2 pound fresh mushrooms
pimento, chopped
1/4 cup soy sauce
1 can chicken broth
hot cooked rice
Directions
Pound chicken breasts between waxed paper to 1/4 inch thickness. Sprinkle with salt and pepper. Cut into 1/2 inch by 1 inch strips. Roll in cornstarch. Fry in hot deep oil until crisp and brown; drain.
Stir fry vegetables until tender-crisp and colors intensify. Combine 1/3 cup water with soy sauce and broth in bowl. Stir into vegetables. Add chicken. Cook until sauce thicken, stirring constantly. Serve over white rice.