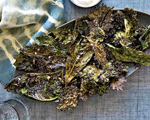 Prep: 10 min
Cook Time: 15 min
Total: 25 min
Serving: 4 Servings
Kale is a kind of cabbage with exceptional nutrient and antioxidant benefits. Enjoy its sharp flavor fried crisp and served with a thick and creamy Greek yogurt dip.
Ingredients
1 pound curly kale, stems and large inner ribs removed
1/4 cup extra-virgin olive oil plus 1 tablespoon
2 cloves garlic, minced
Salt and freshly ground pepper
1 cup plain Greek yogurt
1 teaspoon finely grated lemon zest
2 tablespoons fresh lemon juice
Directions
Preheat the oven to 375 degrees.
Put the kale in a bowl, drizzle with 1/4 cup olive oil and add half of the garlic. Toss to coat and then spread the kale onto 2 baking sheets. Roast the kale for 15 minutes and then sprinkle with some salt and pepper to taste.
In the meantime, combine the yogurt, lemon zest, lemon juice, remaining garlic and 1 tablespoon of oil into a bowl. Add a pinch of salt and pepper to taste and then vigorously stir to combine.
Serve the fried kale with the Greek yogurt dressing.