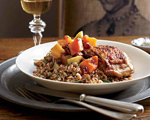 Prep: 10 min
Cook Time: 20 min
Total: 30 min
Serving: Serves 4
Chicken thighs are moister and more flavorful than leaner white breasts. Dark meat is also more nutritious than white meat, as it contains more zinc, amino acids and iron.
Ingredients
2 tablespoons unsalted butter
5 ounces butternut squash, peeled and cut into 1/2-inch dice (1 cup)
1 large shallot, minced
1/2 Granny Smith apple, peeled, cored and cut into 1/2-inch dice
1/4 teaspoon ground cinnamon
1/4 teaspoon cayenne pepper
1-1/2 cups golden raisins, (1/2 pound)
1/2 cup dry white wine
2 tablespoons honey
2 teaspoons chopped thyme
Sea salt and freshly ground black pepper
1 tablespoon vegetable oil
8 6 ounce bone-in chicken thighs
Directions
Preheat your oven to 350 degrees.
Place the butter into a large sauté pan over medium heat. Once melted, stir in the squash and cook, covered, for 3 minutes.
Add the shallot to the pan and sauté for 1 minute before stirring in the apple, cinnamon and cayenne, and cooking for 1 additional minute.
Mix in the raisins, wine, honey and thyme and continue to cook until the mixture is almost dry. Add a few pinches of salt and pepper, and then remove pan from heat.
Place the oil in a large oven-safe sauté pan over high heat. Once the oil begins to shimmer, add the chicken and cook, skin side down, for 5 minutes, covered, and then transfer to the oven and roast for 7 additional minutes.
Serve the chicken immediately topped with the squash mixture.