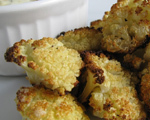 Prep: 10 min
Cook Time: 50 min
Total: 1 hr
Serving: Serves 2-4
To successfully roast cauliflower until crispy, make sure you do it in a very hot oven otherwise it can become soggy. Enjoy these crispy florets with a cheesy dip or as a side dish.
Ingredients
1 head cauliflower, cut into small florets
2 tablespoons olive oil plus some for greasing
Sea salt and freshly ground pepper
Directions
Preheat your oven to 425 degrees and brush a baking sheet with olive oil.
Place the cauliflower into a large bowl, drizzle with the olive oil and then sprinkle with a few pinches of salt and fresh pepper. Toss the mixture to combine and then transfer to the prepared baking sheet and spread the florets into a single layer.
Roast the cauliflower for 50 minutes, rotating the pan after 25 minutes to ensure even cooking. Serve immediately.