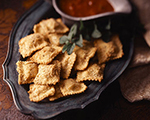 Prep: 15 min
Cook Time: 13 min
Total: 28 min
Serving: 48 appetizers
Who would have thought that ravioli could be baked until crisp and enjoyed as an appetizer? Serve these tasty bites with a side of warm marinara sauce for dipping.
Ingredients
1/2 cup Italian dry bread crumbs
1/4 cup grated Parmesan cheese
1/2 cup sour cream
1/4 cup milk
48 small refrigerated cheese-filled ravioli
Directions
Preheat the oven to 375 degrees.
Place the breadcrumbs and the cheese in a bowl and stir to combine.
Place the sour cream and the milk in another bowl and stir to combine.
Dip each ravioli into the milk mixture, dredge in the breadcrumb mixture and then place on a baking sheet.
Bake the ravioli for 13 minutes, or until crisp, and serve immediately.