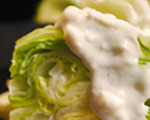 Prep: 1 hr
Cook Time: 4 min
Total: 1 hr 4 min
Serving:
If there were a salad that could ever be considered a comfort food than this would be it; crisp iceberg lettuce topped with a crumbled blue cheese and cracked black peppercorn sauce. Delicious.
Ingredients
3 radishes, thinly sliced
2 red fresno chiles, stemmed, seeded, and thinly sliced lengthwise
1 head iceberg lettuce, cored, torn into 3-inch wide pieces
1⁄2 English cucumber, halved and cut into half moons
1⁄4 cup tarragon leaves
1⁄4 cup flat-leaf parsley leaves
1⁄4 cup chervil leaves
10 chives, cut into 1-inch pieces
8 tablespoons extra-virgin olive oil
2-1⁄2 teaspoons cracked black peppercorns
2 shallots, finely chopped
5 tablespoons red wine vinegar
8 ounces blue cheese, crumbled
Sea salt, to taste
Directions
Place 2 tablespoons of the olive oil into a sauté pan over medium heat. Once the oil begins to shimmer, add the peppercorns and the shallots and sauté for 5 minutes. Take the pan off the heat, stir in the vinegar, and then place the mixture into a bowl.
Place two-thirds of the blue cheese into the bowl with the vinegar mixture and then add the remaining vinegar and oil and a pinch of salt. Gently stir to combine and then cover and let sit at room temperature for 40 minutes.
Place the radishes, chiles, lettuce, and cucumbers into a large bowl and then fill with ice water. Keep the vegetables submerged for 5 minutes to crisp and then drain and dry.
Put the vegetables into a salad bowl along with the tarragon and parsley, and then add the blue cheese mixture. Toss to coat and then serve garnished with the remaining blue cheese and the chervil and chives.