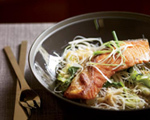 Prep: 10 min
Cook Time: 10 min
Total: 20 min
Serving: Serves 6
This Asian-inspired meal has wonderful flavor and texture with its mix of flavors and combination of salmon, rice noodles and baby bok choy.
Ingredients
4 cups low-sodium chicken broth
2 cups water
1/4 cup mirin
1/4 cup low-sodium soy sauce
1/4 cup rice wine vinegar
2 tablespoons minced fresh ginger
2 cloves garlic, minced
1 teaspoon sugar
8 ounces rice noodles
2 tablespoons vegetable oil
6 center-cut salmon fillets with skin, about 6 ounces each
Salt
1 pound baby bok choy, cut into thin wedges
2 scallions, thinly sliced
Directions
Place the broth, water, mirin, soy sauce, vinegar, ginger, garlic and sugar into a saucepan and bring the mixture to a boil. Add the baby bok choy and cook for 2 minutes.
In the meantime, cook the rice noodles according to package directions, drain and evenly divide between 6 bowls.
Place the oil in a sauté pan over high heat and sprinkle the salmon fillets on both sides with salt.
Once the oil begins to shimmer, place the fillets in the pan and cook, skin side down, for 8 minutes, flipping once, and then transfer to the bowls with the noodles.
Top the fish with the baby bok choy and serve immediately.