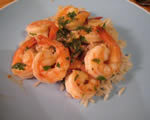 Prep: 10 min
Cook Time: 33 min
Total: 43 min
Serving: Serves 4
Fresher, leaner, and full of crunch, this shrimp dish is inspired by the New Orleans' Creole and Cajun cuisines and will be a hit at your table.
Ingredients
4 large egg whites
3 to 4 teaspoons Creole spice blend
2 teaspoons lime zest
1/2 to 1 teaspoon Tabasco® sauce
1/8 teaspoon salt
10 GG Scandinavian Bran Crispbreads, ground to crumbs (about 1 cup)
1-1/2 pounds large shrimp, peeled and deveined, tails left on
lime wedges (optional)
Directions
Preheat the oven to 400°F. Coat 2 heavy or nonstick baking sheets with olive oil cooking spray.
In a large bowl, whisk the egg whites until foamy. Beat in the Creole spice blend, lime zest, Tabasco®, and salt.
Place the shrimp in the egg white mixture and toss to coat. One at a time, roll a shrimp in the crumbs, pressing them lightly onto the surface so the crumbs adhere.
Arrange the crumbed shrimp in single layers on the prepared baking sheets. Mist the shrimp lightly with olive oil cooking spray.
Bake until the shrimp are just opaque in the thickest part, 16 to 18 minutes. Serve hot, with lime wedges.