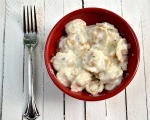 Prep: 5 min
Cook Time: 15 min
Total: 20 min
Serving: Serves about 4
If you're a cheese lover, this is your dream dish! Not only are you getting a cheese fix with the creamy, homemade Alfredo, you're also getting it with the triple cheese stuffed tortellini! This creamy, savory and rich dinner is not only delicious, it's quick and can be made in less than 20 minutes!
Ingredients
1 package three cheese tortellini
2 cups skim milk
1 cup light cream
2/3 cup Parmesan cheese
1 small onion, finely chopped
1 tablespoon butter, melted
3 tablespoons flour
Liberal dashes of salt and pepper
Directions
Heat the butter in a small pan. Cook the onions over medium-high heat until they are soft and translucent, about 4 minutes. Remove from the heat. Cook the pasta according to the package instructions and set aside.
In a medium size saucepan, heat the milk and cream over medium heat until frothy. Add in the flour and whisk. Reduce the heat to low and let it simmer until the sauce is thick. Add salt and pepper.
Remove the sauce from the heat and quickly stir in Parmesan cheese. Serve the sauce over the pasta and enjoy!