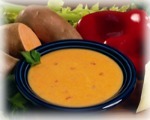 Prep: 20 min
Cook Time: 30 min
Total: 50 min
Serving: Serves 4-6 people
Creamy Sweet Potato Bisque is great on a cool evening served with crunchy bread and a fresh salad. This recipe has an unexpected ingredient -- peanut butter -- to make it even more mouth watering.
Ingredients
2, 10-ounce sweet potatoes
1 small onion, chopped
1 clove garlic, minced
3 cups reduced-sodium tomato juice
1, 4-ounce can of diced green chiles, drained
2 teaspoons minced fresh ginger
1 tablespoon vegetable oil
1 teaspoon allspice
1, 15-ounce can vegetable broth
1/2 cup smooth peanut butter
Fresh ground black pepper to taste
Sour cream for garnish
Directions
Prick the sweet potatoes with a fork and microwave them on high heat until cooked (about 7-10 minutes). Set aside to cool.
In a large saucepan, heat the oil over medium-high heat. Add the onion and cook, stirring, until it starts to brown (about 2-4 minutes). Add the garlic and cook for another minute. Add the tomato juice, green chiles, ginger and allspice. Bring the mixture to a gentle boil and cook for about 10 minutes.
Peel the sweet potatoes and dice them into bite-sized pieces. Add half to the pan. Add the remaining potatoes to a blender or food processor with the vegetable broth and peanut butter. Puree until smooth.
Add the puree to the pan and stir to combine. If you'd like a thinner soup, add a bit of water and stir. Season with pepper and serve hot. Garnish with a dollop of sour cream.