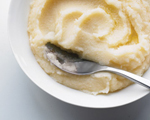 Prep: 20 min
Cook Time: 23 min
Total: 43 min
Serving: Serves 4-6
Sunchoke is also known as a Jerusalem artichoke. Although it visually resembles ginger, it has a consistency much like potatoes but with a sweeter and nuttier flavor.
Ingredients
1 bag of Sunchokes
3 cloves of garlic, minced
1/2 cup of chicken stock
1 shallot, chopped
Sea salt and freshly ground black pepper
1 teaspoon sage
Directions
Place a pot of water over high heat and bring to a boil
In the meantime, scrub the sunchokes with a vegetable brush, removing all the dirt and grit and then add to the boiling water; boil for 20 minutes.
In a medium-sized sauté pan, heat the butter over medium-high heat and sauté the shallots and garlic until soft and translucent, about 3 minutes.
Place the boiled sunchokes, sage and the sautéed garlic and shallots into a food processor and process until creamy, while slowly pouring in the chicken stock.
Season with salt and pepper and then transfer to a serving bowl.