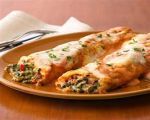 Prep: 10 min
Cook Time: 25 min
Total: 35 min
Serving: Serves 6 people
Make a Mexican meal quickly and enjoy the flavors of this favorite. Creamy Spinach Enchiladas are easy and make a nutritious vegetarian dinner for the whole family. Serve with rice and beans.
Ingredients
1 tablespoon of butter
1/2 cup of green onions, diced
1, 9-ounce package of frozen spinach, thawed and drained
1 cup of ricotta cheese
1/2 of low-fat sour cream
1-1/2 cups of shredded Monterey Jack cheese
12, 6-inch corn tortillas, warmed
1, 10-ounce can of enchilada sauce (red or green)
Directions
Preheat your oven to 375 degrees. Melt the butter in a large skillet over medium-high heat. Add 1/2 cup of the green onion. Cook, stirring, until crisp-tender (about 2 minutes). Add the spinach and cook for another minute, stirring often. Remove from heat and stir in the ricotta cheese, sour cream and 1 cup of the Monterey Jack cheese.
Spoon 1/4 cup of the mixture down the middle of each tortilla. Roll up the tortillas. Place the tortillas in an ungreased, 13x9-inch backing dish. Pour the sauce over the tortillas, making sure to cover them evenly. Sprinkle with the remaining Monterey Jack cheese.
Bake until bubbly and heated (about 15-20 minutes). Add sour cream as a garnish.