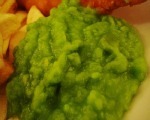 Prep: 5 min
Cook Time: 10 min
Total: 15 min
Serving: Makes about 10 servings
This recipe is for babies aged 8 months and older. Save money and allow baby to enjoy the benefits of a tasty homemade meal! Creamy Smashed Peas will bring a smile to your little one's face.
Ingredients
4 cups peas, fresh or frozen
1 cup of milk
2 tablespoons flour
2 tablespoons butter
Salt and pepper to taste
Directions
Using a large saucepan, melt butter over medium-high heat. Whisk in the flour and cook for about 1 minute.
Add the milk slowly, whisking the entire time you cook it. This will prevent lumps.
Add salt and pepper to taste. You can include additional spices, as you prefer.
Cook until the mixture begins to thicken. Add peas, stir and cook until heated through (about 5-7 minutes). Serve warm to baby.